2011 | OriginalPaper | Buchkapitel
3. Semantic Annotations and Retrieval: Manual, Semiautomatic, and Automatic Generation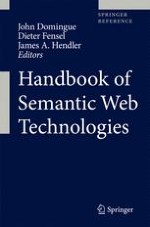 Erstes Kapitel lesen
Autoren: Dr. Kalina Bontcheva, Prof. Hamish Cunningham
Verlag: Springer Berlin Heidelberg
Abstract
The semantic annotation of textual Web content is key for the success of the Semantic Web. This entry reviews key approaches and state-of-the-art systems, as well as drawing conclusions on outstanding challenges and future work.
First, the problem of semantic annotation is defined and distinguished from other related research fields. Manual annotation tools are discussed next in the context of key requirements, such as support for diverse document formats, multiple ontologies, and collaborative, Web-based annotation.
Next, the entry discusses ontology-oriented, semiautomatic, and automatic systems, which typically target ontologies as their output format, but do not use them as a knowledge resource during semantic analysis. Then a number of more advanced ontology-based semantic annotation approaches are presented and compared to one another. Particular emphasis is on scalability (i.e., the ability to process millions of documents) and customization (i.e., how easy it is to adapt these systems to new domains and/or ontologies).
The semantic retrieval of documents enables users to find all documents that mention one or more instances from the ontology and/or relations. The queries can also mix free-text keywords, not just the annotations. Here different types of retrieval tools are reviewed, some of which provide document browsing functionality as well as search refinement capabilities. The entry then provides in-depth examples of three semantic annotation applications: the GATE framework, News Collector, and large-scale patent processing. Future issues to be addressed are making use of linked data, dealing with large-scale, highly ambiguous ontologies, multilinguality, lexicalization of ontologies, and from an implementational perspective, semantic annotation as a service.