01.11.2017 | Research Paper | Ausgabe 8/2018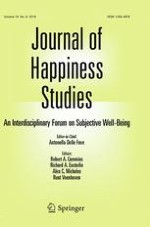 Social Networks and Subjective Well-Being: A Comparison of Australia, Britain, and China
Zeitschrift:
Autoren:

Yanjie Bian, Mingsong Hao, Yaojun Li
Wichtige Hinweise
Authorship is alphabetically arranged to honor equal contribution. Yanjie Bian is grateful to China's Philosophy and Social Science Foundation for a key-project Grant (13&ZD177), and Yanjie Bian and Yaojun Li are grateful to the Australian Research Council for a collaborative Grant (DP130100690) with Mark Western and Xianbi Huang; both grants provided partial support for the research reported in this paper. The authors also wish to thank Xianbi Huang, Mark Western, Lei Zhang, Xiaowen Zhu, participants in a 2015 project symposium at University of Queensland, Brisbane, Australia, as well as the
JOHS
Editor Antonella Delle Fave, Associate Editor David Bartram, and anonymous reviewers for their helpful comments and suggestions on earlier drafts of this paper.
Abstract
This paper is a comparative study of formal and informal social networks and their effects on subjective well-being in Australia, Britain, and China. Formal social networks are measured by group affiliations, and informal social networks are measured by personal connections with kin, friends, and acquaintances. An analysis of the national representative sample surveys from the three countries shows that the formal networks are of notable importance in increasing people's subjective well-being in Britain and urban China, but the informal networks have much greater impacts in all three countries, particularly in rural China. We propose a cultural–structural interaction framework to explain the observed differences in the network influence on subjective well-being in the three countries.