2006 | OriginalPaper | Buchkapitel
Some really simple but useful model of substitutable elasticity modelled as elasticity in six subsequent joints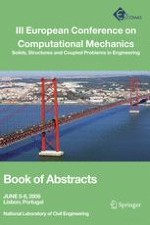 Erstes Kapitel lesen
Autor: Krzysztof Lipiński
Verlag: Springer Netherlands
The paper devotes its attention to an analysis of dynamics of multibody systems. We assumed as evident that any rigid bodies' multibody structure could be modelled easily, as a big number of methodologies exist and their descriptions are present in the literature from years. Thus the actual challenge is not a new methodology. The challenge is the effective way of modelling. At this same time, there is not any unique and universal method of modelling. For most of real structures, they can be modelled using few alternative sequences of bodies. Moreover, within the structures we can easily locate some specific substructures that can be modelled with the general, classical methodology or by some shorter algorithm dedicated to these specific substructures. We will focus on one of such substructures. The detail is an elastic support of a rigid body. If motions of such body are small one of the most popular model is an elasticity formula with nonzero diagonal elasticity coefficients. The model of the spring with diagonal matrix becomes inoperative if someone considers significant displacements of the body. Then some alternative could be the concept of elasticity present in six subsequent joints of massless multibody structure. It can be modelled as a closed loop substructure, or as some direct analytical formula. The second is numerically shorter and more effective. However, its equations are not intuitive, and thus it looks interesting to present them in a separate paper. The detail is extracted from the multibody structure and is presented.
The paper is divided into seven parts. The first focuses on the idea of substitutable coefficients itself and on the necessity of use of such models. The two following presents most popular ideas of such models. In paragraph number two you could found some brief idea of a model known as spring with diagonal matrix when in the third a model called as elasticity in six subsequent joints. Paragraph forth presents classical methodology used to model supporting structure of six subsequent joints. Fifth presents our proposition of the direct model of such structure and its equations. The next is devoted to numerical validation of equations, base on some 6 elements multibody model [
1
],[
2
], and to a presentation of an exemplary code of the procedure. The final one presents main conclusions. As it is proofed, the direct model gives exact results of error tolerance better that the classical model. Simultaneously, the use of the direct model drastically reduces the number of multiplications in compare with the classical model. These numbers are calculated and compared.