2013 | OriginalPaper | Buchkapitel
3. Sources of Inspiration for Autonomic Computing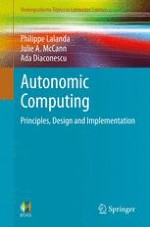 Erstes Kapitel lesen
Autoren: Philippe Lalanda, Julie A. McCann, Ada Diaconescu
Verlag: Springer London
Abstract
Autonomic computing can capitalise on advancements available from several scientific fields, both within and beyond the computer science domain. This chapter provides an overview of such fields and highlights their possible contributions to autonomic computing systems. The manner in which concepts, mechanisms and processes can be adopted and reused as software engineering approaches is highlighted across this chapter.
We discuss biology as the first source of inspiration for autonomic computing. While the bio-inspired autonomicity concept is highly relevant to autonomic computing, the potential of biology to inspire this field largely surpasses this metaphor. We therefore enlarge our discussion to biological systems in general, especially nervous systems, highlighting how their implementation in different species can inspire various solutions to autonomic computing systems.
We also show how autonomic computing shares many of its goals and necessary underlying constructions with some well-established engineering and computing fields such as automated control systems, robotics, artificial intelligence and multi-­agent systems. The chapter summarises some of the most relevant concepts and approaches available from existing fields and indicates the manner in which they can be adopted to serve the autonomic computing initiative.
A number of interrelated theoretical fields provide a potentially significant link between natural and artificial autonomic systems. Areas such as complex systems theory, cybernetics, networked systems theory and artificial life have set out to decipher the inner workings of complex adaptive systems and ultimately to control or to build artificial ones. We briefly point out the relevance of such fields and the core concepts that seem most readily applicable to autonomic computing.
Certainly, the chapter cannot provide a comprehensive view of all areas relevant to autonomic computing. Rather, its purpose is to provide an (probably biased) overview of the most relevant sources of inspiration and to offer pointers towards more extensive specialty literature.