2018 | OriginalPaper | Buchkapitel
Speech Style Effects on Local and Non-local Coarticulation in French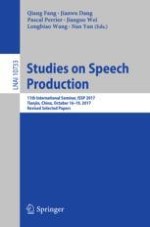 Erstes Kapitel lesen
Autoren: Giuseppina Turco, Fanny Guitard-Ivent, Cécile Fougeron
Abstract
Interactions between speech style and coarticulation are investigated by examining local, non-local, anticipatory and carryover contextual effects on vowels in two French corpora of conversational and journalistic speech. C-to-V coarticulation is analyzed on 22 k tokens of /i, E, a, u, ɔ/(/E/=/e, ɛ/) 50-to-80 ms long. Contextual effects are measured as F2 changes in relation to the adjacent consonant (alveolar
vs.
uvular) in CV
1
and V
1
C sequences. V-to-V coarticulation is analyzed on 33 k V
1
C(C)V
2
sequences with V
1
 = /e, ɛ, o, ɔ, a/ falling within the same range of duration, and V
2
either high/mid-high or low/mid-low. Contextual effects are measured as F1 changes as function of V
2
height. Results show more local C-to-V coarticulation in conversational than in journalistic speech, as previously found for other languages. Interestingly, this interaction is clearer for all vowels in V
1
C, whereas coarticulation in CV
1
is affected by style for non-high vowels only. V-to-V coarticulation is also found in both corpora but is modulated by style only for mid-front vowels and in the opposite direction (i.e. more overlap in journalistic than in conversational speech). Findings are interpreted in light of dynamic models of speech production and of a phonological account of French V-to-V harmony.