25.09.2018 | Original Paper: Characterization methods of sol–gel and hybrid materials | Ausgabe 2/2018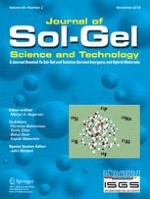 Structural, dielectric, cytocompatibility, and in vitro bioactivity studies of yttrium and strontium co-substituted nano-hydroxyapatite by sol–gel method
Zeitschrift:
Autoren:

Lakshmanaperumal S, Mahendran C
Abstract
Synthetic nano-biomaterials with inclusion of dual minerals can stimulate bone bonding ability and their preferable non-cytotoxicity makes them applicable for orthopedic and dental implants. The present work deals with the effect of doping Y
3+
alone and Y
3+
/Sr
2+
on HA nanoparticles by sol–gel technique. The synthesized samples were characterized by XRD, FT-IR, FE-SEM, TEM, and EDAX to check the crystallite size, crystallinity, structure, and phase composition. The dielectric and electrical properties were also studied at room temperature. The prepared samples consisted of a well-crystalline pattern admixture with a minor phase of β-TCP. Investigations reveal that the amount of Y
3+
dopant caused no significant distortion in the crystal structure of HA, but decreased the crystallinity and crystallite size considerably. The absorption bands related to the hydroxyl and phosphate groups observed in FT-IR spectra confirmed the formation of HA structure. The increase in ac conductivity (
σ
ac
) with increasing applied frequency confirmed that all samples follow the universal power law. Moreover, in vitro apatite-forming ability of Y
3+
/Sr
2+
co-substituted HA nanoparticles was investigated by immersing in the simulated body fluid (SBF) for 7, 14, and 21 days. The samples did not show any harmful distress on the growth of A549 cells, which confirmed that they are potential candidates for biomedical and material science engineering.
×