18.05.2018 | Original Paper | Ausgabe 9-11/2018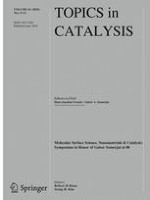 Structure and Electrocatalytic Reactivity of Cobalt Phosphosulfide Nanomaterials
Zeitschrift:
Autoren:

Quan Gan, Zishan Wu, Xiaolin Li, Wen Liu, Hailiang Wang
Wichtige Hinweise
Electronic supplementary material
Quan Gan and Zishan Wu have contributed equally to this work.
Abstract
Structure and electrocatalytic reactivity of cobalt mono-phosphosulfide nanoparticles supported on carbon nanotubes are investigated. Employing two different synthetic methods, we successfully synthesize cobalt mono-phosphosulfide nanoparticles adopting either the CoP crystal structure (CoP|S with the S/P ratio < 93%) or the CoS crystal structure (CoS|P with the P/S ratio < 73%). S substitution in the CoP structure makes the surface P atoms more oxidized whereas the S atoms stay completely reduced. P substitution in the CoS structure makes the surface S atoms more reduced but the Co atoms more oxidized whereas the P atoms stay completely oxidized. All the cobalt phosphosulfide nanoparticles exhibit relatively P-rich surface. The electrocatalytic performance of the nanoparticles for the hydrogen evolution reaction is studied. In acidic electrolyte, CoP|S nanoparticles show negligible dependence of activity on composition, whereas CoS|P nanoparticles are not stable enough to give any steady activity. In alkaline electrolyte, the activity of CoP|S nanoparticles decreases as the S substitution level increases, whereas that of CoS|P nanoparticles is weakly composition dependent.