2018 | OriginalPaper | Buchkapitel
10. Summary: Executive Decision Synthesis Paradigm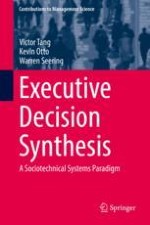 Erstes Kapitel lesen
Autoren: Victor Tang, Kevin Otto, Warren Seering
Abstract
We have two goals for this chapter. The first is to present a summary of the key ideas of our prescriptive decision paradigm. Second is to state the overarching concepts of our paradigm. These concepts are "like the skeleton, which, invisible to the naked eye, gives form and function to the body" (Morgenthau,
Politics among nations
. Alferd A. Knopf, 1960). These concepts are faintly visible throughout the book, but they form the skeleton of our book. We must be clear that we are making no claims about paradigm as theory. We are grounded on theory, but we are not building theory. Third, we will argue that we a rigorous paradigm. To demonstrate rigor, we submit our paradigm to tests of theory formulated by scholars. These tests of theory are the "eye of the needle" to demonstrate the paradigm's rigor, not to claim to theory. But nevertheless, we will thread the needle. We conclude that we have a rigorous prescriptive paradigm for robust executive decisions. The functionality and efficacy of our systematic process is verified by our simulations and case studies.