08.09.2017 | Original Paper: Nano-structured materials (particles, fibers, colloids, composites, etc.) | Ausgabe 2/2017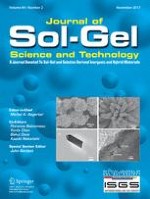 Surface-deposited nanofibrous TiO2 for photocatalytic degradation of organic pollutants
Zeitschrift:
Autoren:

Ruta Sidaraviciute, Edvinas Krugly, Lauryna Dabasinskaite, Eugenijus Valatka, Dainius Martuzevicius
Wichtige Hinweise
Electronic supplementary material
Abstract
Photocatalysis is considered as an environment-friendly process able to decompose organic pollutants and increasingly applied to water and air purification. Photocatalysts having the morphology of a fibrous layer are attractive candidates for practical applications due to their high structural dimensionality and improved photocatalytic performance. This paper describes the production and characterization of supported TiO2 nanofibre layers, produced by electrospinning process and deposited on a glass plate via solvent evaporation. The obtained structures were characterized by X-ray diffraction, scanning and transmittance electron microscopies, and ellipsometry. Depending on calcination temperature, fibres contained anatase or anatase and rutile crystal phases of TiO2. The supported nanofibres formed a compact but fenestrate layer. The catalytic activity was determined by the decomposition of methylene blue and oxalic acid under UV light. The nanofibre layer proved as a competitive catalyst media based on structural properties and the degradation efficiency of several organic pollutants.
Graphical abstract