01.11.2015 | Ausgabe 11/2015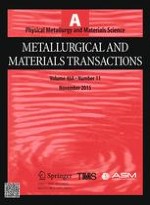 Surface Hardening and Nitride Precipitation in the Nitriding of Fe-M1-M2 Ternary Alloys Containing Al, V, or Cr
Zeitschrift:
Autoren:

Goro Miyamoto, Shotaro Suetsugu, Kunio Shinbo, Tadashi Furuhara
Wichtige Hinweise
Manuscript submitted January 30, 2015.
Abstract
Nitride precipitation and resultant surface hardening in nitrided Fe-M1-M2 ternary alloys containing Cr, Al, or V were investigated using transmission electron microscopy and three-dimensional atom probe tomography. The (Al, Cr) and (Cr, V) mixed nitrides are formed by the co-precipitation of these elements during the nitriding of Fe-Al-Cr or Fe-Cr-V alloys. However, the precipitation of V nitrides precedes Al nitride precipitation during the nitriding of the Fe-Al-V alloy, which results in two-step hardening behavior. The addition of Cr or V to the Fe-Al alloy accelerates the precipitation kinetics of Al nitrides by promoting the nucleation of Al nitrides, which leads to substantial surface hardening.