01.08.2011 | Originals Originalarbeiten | Ausgabe 3/2011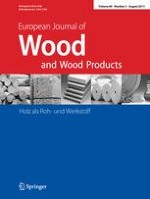 Surface roughness evaluation in medium density fibreboard rip sawing
Zeitschrift:
Autor:

Alfredo Aguilera
Abstract
Wood/panel specific gravity is a factor that has to be evaluated in the machining process because it affects the cutting forces behavior, plays an important role in the tool wear mechanisms and it is closely related to the surface roughness of the manufactured product. In the case of medium density fibreboard (MDF), which compared to solid wood is a homogeneous wood product, it is recognized that the specific gravity varies regularly across its profile, and these variations generate an uneven surface quality at the edge of the panel when machined.
Among the operational parameters affecting the quality of the new surface, the cutting process kinematics is one of the most important parameters, namely the cutting speed and the chip thickness. In MDF industrial rip sawing operations, climb cutting and conventional cutting are additional parameters that affect the cutting quality.
The objective of this study was to assess the surface roughness across the MDF panel profile produced by the rip sawing operation and to study the effect of cutting speed, mean chip thickness and cutting direction.
The findings lead to the conclusion that low levels of surface roughness are reached when the cutting speed is increased at even higher feed speeds, particularly at the edge of the board. High correlation coefficients were found between mean chip thickness and surface roughness for both cutting directions. Finally, the specific gravity variation within the profile of the panel explains very well the resulting surface roughness found.