2012 | OriginalPaper | Buchkapitel
7. Sustainable Development: Measuring Progress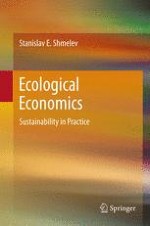 Erstes Kapitel lesen
Autor: Dr. Stanislav E. Shmelev
Verlag: Springer Netherlands
Abstract
This chapter focuses on the new
approach
to assessing progress towards sustainability based on the application of multicriteria decision-aid tools. Russia was chosen as a case study because of the 20 years of economic and social change, which have had a substantial impact on regional and sectoral patterns of the development of its economy, infrastructure, the quality of the environment, and the well-being of its people. The method is particularly suitable for countries in transition, where development has often been less than harmonious.
The chapter employs the UN Sustainable Development Framework of Indicators and assesses the sustainability of Russia using multi-criteria evaluation methods, namely the uncertainty randomization multi-criteria evaluation method "Analysis and Synthesis of Parameters under Information Deficiency" (ASPID). The analysis covers economic, environmental, and social trends in Russia's development between 1985 and 2007 and assesses the sustainability of this development from the point of view of multiple criteria.
The results show the potential of multi-criteria methods for sustainability assessment at the macro level and offer useful insights into the multidimensional nature of sustainability and the role of priority setting in the evaluation process. Such an analysis reveals the degree of harmony in sustainable development policy. It shows how different sets of priorities determine the outcome of multidimensional analysis of sustainability and might potentially help in assessing progress and designing new policy instruments. This chapter is one of the first to apply multi-criteria methods to macro sustainability analysis in a dynamic setting.