26.07.2016 | Original Paper | Ausgabe 4/2017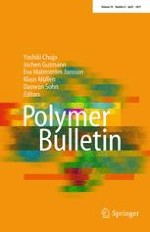 Synthesis and surface analysis of self-matt coating based on waterborne polyurethane resin and study on the matt mechanism
Zeitschrift:
Autoren:

Qiwen Yong, Fuwei Nian, Bing Liao, Ying Guo, Liping Huang, Lu Wang, Hao Pang
Abstract
Self-matt coating of waterborne polyurethane (WBPU) was synthesized by combining prepolymer and self-emulsification methods. The emulsion was fabricated from both hydroxy carboxylic acid and aminosulfonic acid types of hydrophilic chain-extending agents, in which the 2-[(2-aminoethyl) amino] ethane sulphonate sodium (AAS salt) was produced in laboratory. This emulsion demonstrated an excellent matt performance without the addition of extra matting agents after filming. Four different kinds of surface properties were measured on the film: the specular gloss (60° gloss meter), the contact angle (CA), the surface roughness degree (3D Surface Profilometer), and the topography of the coatings surface (SEM). The results showed that tons of spherical particles with diameter in a few micrometers were aggregated on the film surface. The effect of the roughness parameters (
R
a
and
R
q
) and the average particle size of the emulsions on the specular gloss degree were probed. The research indicated that the emulsion with average particle size in the range of 2.5–3.0 µm and, meanwhile, the film with roughness parameters
R
a
and
R
q
both greater than 1 µm could attain the best matt effect. The WBPU emulsions showed good physical and mechanical properties, and were introduced into wood varnish for matting purpose.