01.02.2013 | Research Paper | Ausgabe 2/2013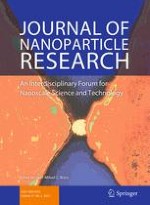 Synthesis of adenine mediated superparamagnetic colloidal β-FeOOH nanostructure(s): study of their morphological changes and magnetic behavior
Zeitschrift:
Autoren:

Anil Kumar, Sudhir Kumar Gupta
Wichtige Hinweise
Electronic supplementary material
The online version of this article (doi:
10.​1007/​s11051-013-1466-z
) contains supplementary material, which is available to authorized users.
Abstract
This paper describes the synthesis of adenine-mediated superparamagnetic β-FeOOH nanostructures in aqueous medium. Capping by adenine provides a synthetic control to manipulate their size, morphology, optical and magnetization properties. β-FeOOH binds to adenine mainly through –NH
2
, N(3); N(9)H and N(7) of the pyridine and imidazole rings, respectively. At low [adenine], it produces nanorods, but at higher [adenine] (>1 × 10
−2
mol dm
−3
), increasing numbers of spherical nanoparticles encapsulating β-FeOOH with an average diameter of 2.5 nm in the core and adenine molecules in the shell are obtained, causing an increase in the specific surface area by about twofold. Dynamic light scattering technique also depicts a regular decrease in their hydrodynamic size with increasing [adenine] and exhibits the highest stability with a zeta potential of ~67 mV for the sample containing 2 × 10
−2
mol dm
−3
adenine (SP5). An increasing [adenine] from 1 × 10
−3
to 2 × 10
−2
mol dm
−3
in these samples enhanced the value of saturation magnetization (
M
S
), due to β-FeOOH, gradually from 2.0 to 6.9 emu g
−1
at 300 K, but at <80 K, a magnetic reversal from superparamagnetic to ferromagnetic is observed. A correlation between morphology and magnetic properties of these nanostructures is discussed. The capping of colloidal β-FeOOH by adenine thus provides a synthetic control to produce novel biocompatible nanostructures exhibiting superparamagnetic behavior with high
M
S
at 300 K having potential for environmental and biological applications.