01.07.2016 | Ausgabe 7/2016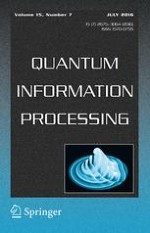 Teleportation of a general two-photon state employing a polarization-entangled
\(\chi \)

state with nondemolition parity analyses
Zeitschrift:
Autoren:

Li Dong, Jun-Xi Wang, Qing-Yang Li, Hai-Kuan Dong, Xiao-Ming Xiu, Ya-Jun Gao
Abstract
Employing a polarization-entangled
\(\chi \)
state, which is a four-photon genuine entangled state, we propose a protocol teleporting a general two-photon polarization state. Firstly, the sender needs to perform one Controlled-NOT gate, one Hadamard gate, and one Controlled-NOT gate on the state to be teleported in succession. Secondly, the sender performs local nondemolition parity analyses based on cross-Kerr nonlinearities and publicizes the achieved outcomes. Finally, conditioned on the sender's analysis outcomes, the receiver executes the single-photon unitary transformation operations on his own photons to obtain the state originally sit in the sender's location. Due to the employment of nondemolition parity analyses rather than four-qubit joint measurement, it can be realized more feasible with currently available technologies. Moreover, the resources of Bell states can be achieved because the nondestructive measurement is exploited, which facilitates other potential tasks of quantum information processing.