01.04.2013 | Research Paper | Ausgabe 4/2013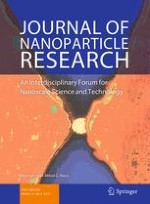 TEM studies of microstructure, interfaces, and intermixing of FePt/MgO/FePt/Pt/Cr(Ru) films
Zeitschrift:
Autoren:

R. Goswami, S. F. Cheng, S. B. Qadri, E. Oh, K. Bussmann
Wichtige Hinweise
Special Issue Editors: Juan Manuel Rojo, Vasileios Koutsos
This article is part of the topical collection on Nanostructured Materials 2012
Abstract
We have investigated the microstructure, interfaces, and intermixing in sputter-deposited FePt/MgO/FePt/Pt/Cr(Ru)/SiN/Si magnetic tunnel junctions by high-resolution transmission electron microscopy (HRTEM) and correlated these results to the magnetic properties. Cr90Ru10 is used as a texturing layer for the growth of perpendicular magnetic anisotropy (PMA) films. HRTEM confirmed the formation of the desired [001] texture in cubic Cr90Ru10 as well as in the adjacent L10-FePt layer using our growth methods. A 1.5 nm layer of MgO was deposited as a tunnel barrier for magnetic tunnel junction in an attempt to fabricate fully perpendicular tunnel junctions of these materials. The HRTEM observations, however, show that the MgO layer was partially crystalline but randomly oriented. The top FePt layer was also found to grow as discrete islands with random orientations and is mostly fcc crystal structure reducing the utility of this multilayer in PMA tunnel junction devices. The fine probe energy-dispersive X-ray spectroscopy showed the interdiffusion of Cr to Pt/FePt layers. The magnetic properties show out-of-plane coercivity larger than that of the in-plane values but with a loss of squareness, consistent with the loss of [001] texture and of L10 structure in the top magnetic layer.