2014 | OriginalPaper | Buchkapitel
3. The Archaean Karelia and Belomorian Provinces, Fennoscandian Shield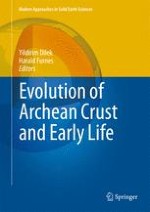 Erstes Kapitel lesen
Autoren: Dr. Pentti Hölttä, Esa Heilimo, Hannu Huhma, Asko Kontinen, Satu Mertanen, Perttu Mikkola, Jorma Paavola, Petri Peltonen, Julia Semprich, Alexander Slabunov, Peter Sorjonen-Ward
Verlag: Springer Netherlands
Abstract
The Archaean bedrock of the Karelia and Belomorian Provinces is mostly composed of granitoids and volcanic rocks of greenstone belts whose ages vary from c. 3.50 to 2.66 Ga. Neoarchaean rocks are dominant, since Paleoarchaean and Mesoarchaean granitoids (> 2.9 Ga) are only locally present. The granitoid rocks can be classified, based on their major and trace element compositions and age, into four main groups: TTG (tonalite-trondhjemite-granodiorite), sanukitoid, QQ (quartz diorite-quartz monzodiorite) and GGM (granodiorite-granite-monzogranite) groups. Most ages obtained from TTGs are between 2.83–2.72 Ga, and they seem to define two age groups separated by a c. 20 m.y. time gap. TTGs are 2.83–2.78 Ga in the older group and 2.76–2.72 Ga in the younger group. Sanukitoids have been dated at 2.74–2.72 Ga, QQs at c. 2.70 Ga and GGMs at 2.73–2.66 Ga. Based on REE, the TTGs fall into two major groups: low-HREE (heavy rare earth elements) and high-HREE TTGs, which originated at various crustal depths. Sanukitoids likely formed from partial melting of subcontinental metasomatized mantle, whereas the GGM group from partial melting of pre-existing TTG crust.
The Karelia and Belomorian Provinces include a large number of generally NNW-trending greenstone belts, whose tectonic settings of origin may include an oceanic plateau, island arc and/or continental rift. The ages of volcanic rocks in these greenstone belts vary from 3.05 to 2.70 Ga.
Migmatized amphibolites occur as layers and inclusions in TTGs and fall into two main groups on the basis of their trace element contents. Rocks of the first group have flat or LREE-depleted trace element patterns, resembling the modern mid-ocean ridge basalts. Rocks of the second group are enriched in LILE and LREE may in part represent metamorphosed dykes with assimilated and/or diffused crustal signatures from their TTG country rocks.
Metamorphism of the TTG complexes occurred under upper amphibolite and granulite facies conditions at c. 2.70–2.60 Ga. The pressures of the regional metamorphism were mostly c. 6.5–7.5 kbar as constrained by geobarometry, and the corresponding temperatures were c. 650–740 °C. The granulites near the western boundary of the Karelia Province were equilibrated at c. 9–11 kbar and 800–850 °C. Subduction-related eclogites in the Belomorian Province were metamorphosed at pressures up to 20 kbars in two stages around 2.88-2.81 Ga and c. 2.72 Ga. In other greenstone belts the observed metamorphic conditions show significant variations. In the central parts of the Ilomantsi greenstone belt the observed metamorphic P and T values are c. 3–4 kbars and 550–590oC, and in the Kuhmo greenstone belt 16–17 kbar and 650–690 °C, respectively.
Neoarchaean accretion of exotic terranes at c. 2.83–2.75 Ga and the subsequent collisional stacking at ~ 2.73–2.68 Ga were instrumental in the construction of the current crustal architecture of the Karelia Province. The Svecofennian orogeny strongly modified, however, this Neoarchaean crustal structure during the early Proterozoic