02.01.2016 | Ausgabe 4/2016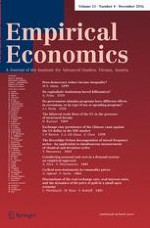 The Beveridge–Nelson decomposition of mixed-frequency series
An application to simultaneous measurement of classical and deviation cycles
Zeitschrift:
Autor:

Yasutomo Murasawa
Wichtige Hinweise
Doubtless the ideal procedure would be to make two sets of measures for each series: one set based on the original data adjusted only for seasonal variations, as is our present practice, the other based on the best attainable isolation of the 'cyclical component' of the data. But the resources at our disposal place grave obstacles to the realization of this ideal.
—Burns and Mitchell (1946, p. 41)
Abstract
Gibbs sampling for Bayesian VAR with mixed-frequency series draws latent high-frequency series and model parameters sequentially. Applying the multivariate Beveridge–Nelson (B–N) decomposition in each Gibbs step, one can simulate the joint posterior distribution of the B–N permanent and transitory components in latent and observable high-frequency series. This paper applies the method to mixed-frequency series of macroeconomic variables including quarterly real GDP to estimate the monthly natural rates and gaps of output, inflation, interest, and unemployment jointly. The resulting monthly real GDP and GDP gap are complementary coincident indices, measuring classical and deviation cycles, respectively.