2019 | OriginalPaper | Buchkapitel
The Collective Construction and Management of Spatial Knowledge in Open Spaces: A Pilot Study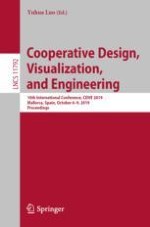 Erstes Kapitel lesen
Autoren: Domenico Camarda, Giulia Mastrodonato, Mauro Patano
Abstract
Spatial environments have been largely studied over time, under different perspectives. Under a cognitivist perspective, they represent knowledge-intensive, meaningful spaces and entities that human agents relate to and adapt during their existence.
The comprehension/identification of space fundamentals by human agents can be of great interest in strategic planning, in that they may represent structures, pillars, invariant, resilient characters of the environment, on which to build/plan the layout and development of regions and towns.
Our work focuses on the potentials and problems of orientation and spatial knowledge in endogenous and exogenous agents in spaces with reduced - in particular extremely reduced - population, using a case-study experimental approach.
In particular, we are interested in the essential information for orientation in navigation and for the identification of the resources necessary to guarantee operative systems of relationship between agents and between agents and spaces.