2021 | OriginalPaper | Buchkapitel
4. The Conflicted Making of International Refugee Law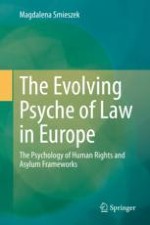 Erstes Kapitel lesen
Autor: Magdalena Smieszek
Abstract
The troublesomeness of the refugee label is longstanding from multiple angles, whether expressed by the sentiments of delegates within the process of creating a legal definition that attained standing through the United Nations in 1951, or the experience of persons that had sought refuge, as expressed in Hannah Arendt's essay in 1943, persons for whom the legislation was created. These days, refugee law literature focuses extensively on contemporary legal manifestations—and there is plenty of material to reflect on with nearly daily developments in a state of the world that produces increasing numbers of refugees. And yet, while human psychology and its legislative formations are malleable, they can also be stubbornly enduring. A psycho-historical reflection is needed, some of which was started in Chap.
2
on the origins of asylum and it is apt to continue with the beginnings of international refugee law as of the twentieth century with its focus on Europe. The idiom goes that hindsight is 20/20 with clarity when looking at the past, though it is difficult to get the full context and mindset of a different era, especially through the skewed lens of the present, looking back
does
permit a connecting of the dots. Importantly, this is best done through an updated set of tools and perspectives for understanding the evolution.