2020 | OriginalPaper | Buchkapitel
The Contribution of Cartography in Risk Management of Vector-Borne Diseases: Cas of Leishmaniasis in the Fez-Meknes, Region of Morocco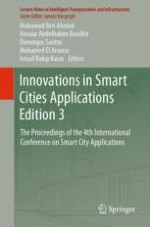 Erstes Kapitel lesen
Autoren: H. El Omari, A. Chahlaoui, F. Talbi, K. Ouarrak, A. El Ouali Lalami
Abstract
Leishmaniasis is parasitic infestations common to humans and to certain animals (anthropozoonoses). It constitutes a real public health problem despite the progress of research.
In Morocco, as in most countries around the Mediterranean, and despite its adherence to the leishmaniasis control program put in place by the WHO, leishmaniases in these different forms are endemic in many areas and continue to pose a significant public health problem.
The purpose of this study is to create a database containing geographic parameters (prefectures) and health data (incidence of leishmaniasis) in a geographic information system (GIS). This database was then exploited by spatio-thematic analyzes, which allows the identification of the places at risk. This spatial representation known as the risk map is essential in the careful identification of high-risk prefectures.
This study shows that cartography is an important tool that helps to eliminate this disease in endemic foci, to anticipate the emergence of possible epidemics and to identify possible "emerging" risk factors that can create epidemiological news.