2019 | OriginalPaper | Buchkapitel
10. The European Parliament in the Brexit Process: Leading Role, Supporting Role or Just a Small Cameo?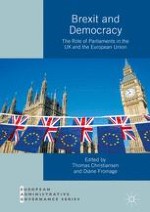 Erstes Kapitel lesen
Autor: Monika Brusenbauch Meislova
Abstract
The chapter researches the role of the European Parliament (EP) in the politically charged Brexit process and outlines the opportunities and challenges that it implies. The EP's role is explored within four specific dimensions: (1) constitutional dimension, (2) procedural dimension, (3) party-political dimension and (4) national-interest dimension. Within the constitutional dimension, the analysis focuses firstly on how the EP has reacted institutionally to Brexit (i.e. in terms of setting up special committees or working groups) and secondly on the relationship between the EP and other European Union (EU) institutions, reflecting on the interinstitutional balance and dynamics in the withdrawal process. The procedural dimension concentrates on the extent to which the EP has been able to influence the withdrawal process as opposed to only giving or withholding its consent to any final deal negotiated between the British government and the European Commission. In this context, attention is paid also to the balance between the EP's formal and informal role(s) in the Brexit process. Within the party-political dimension, the chapter discusses the partisan influence, exploring if and how party-political ties impact EP's performance vis-à-vis Brexit. Finally, the national-interest dimension addresses the extent to which members of the parliament (MEPs) are (or are not) split along national lines when it comes to taking positions on the UK's withdrawal from the EU.