2019 | OriginalPaper | Buchkapitel
11. The Impact of Brexit on the European Parliament: The Role of British MEPs in Euro-Mediterranean Affairs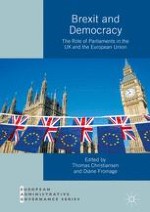 Erstes Kapitel lesen
Autor: Jan Claudius Völkel
Abstract
Many of the aspects around Brexit have been related to policies between Europe and the Middle East/North Africa. The nightmarish collapse of Arab societies and security structures, especially in Syria, Iraq, Libya and Yemen, and the resulting 100,000s refugees fleeing towards Europe reawakened intensive debates about immigration, Islamisation and terrorism in the UK, embedded in the long-term dispute about what competences the EU should generally have.
The cleavages within Britain's society between "remainers" and "leavers" also reverberated among UK's 73 members of the European Parliament (UK-MEPs). Brexit supporters promoted fundamentally different ideas about the growing challenges in the EU's southern neighbourhood than those who supported Britain's EU membership. UK-MEPs were particularly disunited about whether borders for refugees should be opened or closed, whether Muslims posed a threat or enrichment for Europe's societies, and whether closer cooperation in EU justice and home affairs led to higher or lower security.
With the means of a discourse analysis, this chapter analyses the contributions UK-MEPs have made to EU-Mediterranean policies during their last tenure in the European Parliament, 2014–2019. It shows that Brexiters used Mediterranean issues primarily as just another occasion to renew their criticism of the EU, calling for a leave from Brussels; Remainers, meanwhile, continued to dispute about the right European responses, and tried to shape EU policies as much as possible according to their political priorities.