01.02.2013 | Technical Note | Ausgabe 1/2013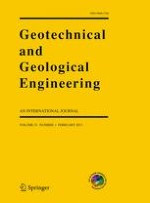 Time-Variant Reliability Analysis of Unsaturated Soil Slopes Under Rainfall
Zeitschrift:
Autoren:

Xiao-hui Tan, Na Hu, Dan Li, Meng-fen Shen, Xiao-liang Hou
Abstract
Time-variant reliability analysis for a typical unsaturated soil slope is performed. Eight rainfall conditions are considered, and three slope models are set up for studying the influence of shear strength parameters, hydraulic conductivity parameters, rainfall intensity and duration on the reliability of the soil slope. Sensitivity analysis shows that when the saturated hydraulic conductivity (
k
s
) is very small, the variation of hydraulic conductivity has little effect on the reliability index (β). For saving the computation effort, only the shear strength parameters are needed in performing the reliability analysis in this condition. With the increase of
k
s
, the importance of hydraulic conductivity becomes large. The reliability index of the soil slope is changing with time (
t
), and the shape of β–
t
curves for different slope model is quite different for they depend on the value of
k
s
. When
k
s
is very small, β keeps decreasing for all the 18 simulation days. With the increase of
k
s
, β decreases to its minimum value at about the cessation day of rainfall events, and it then increases gradually due to the redistribution of suction in the soil slope.