01.01.2015 | Original | Ausgabe 1/2015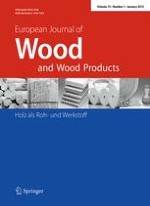 Toxicity of sodium fluoride to subterranean termites and leachability as a wood preservative
Zeitschrift:
Autoren:

Chengyuan Pan, Guanhua Ruan, Haihong Chen, Dayu Zhang
Abstract
Wood preservation is one of the most effective methods to prevent damage caused by termites. Sodium fluoride (NaF) is a well-known fungicide for preventing decay in timber due to its excellent diffusion in wood. In this study, the toxicity of NaF to the termites
Reticulitermes flaviceps
and its potential leachability as wood preservative were assessed. While termites were in contact with NaF-treated filter paper in a Petri dish for nine days, termites were found completely dead while the papers were treated by NaF at concentration of 0.5 % (wt/wt) or above. Wood blocks of
Pinus massoniana
were treated with five different concentrations of NaF (0.1, 0.25, 0.5, 1 and 2 %) respectively, and then exposed to a non-soil-contact field leaching experiment. After 4 weeks, retention levels of NaF in the wood blocks dropped from 0.075–0.834 % to 0.057–0.284 %. A choice test, in which NaF-treated and untreated wood blocks were exposed to the termites
R. flaviceps
was conducted. The results showed NaF, even at retention of 0.057 % (wt/wt), could significantly inhibit termite feeding in the treated blocks. The results suggest that NaF is a suitable wood preservative with anti-feedant activity against termites.