2014 | OriginalPaper | Buchkapitel
14. Understanding Cancer as an Evolving Complex System: Our Perspective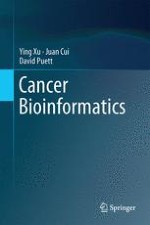 Erstes Kapitel lesen
Autoren: Ying Xu, Juan Cui, David Puett
Verlag: Springer New York
Abstract
"Now, here, you see, it takes all the running you can do, to keep in the same place", as the Queen told Alice in Lewis Carrol's novel,
Through the Looking-Glass, and What Alice Found There
(1871). Evolutionary biologist Leigh Van Valen considered that this statement captured the essence of his proposal that inter-species interactions are a key driving force of evolution and named it the "Red Queen Hypothesis" in his 1973 publication (Valen 1973). Paterson and colleagues recently provided an elegant demonstration that microbial evolution follows this Hypothesis, by showing how the dynamic equilibrium between two co-existing populations, one bacterial and one viral parasite, is regained through rapid evolution by one party once the other is genetically given a new competitive edge (Paterson et al. 2010). They went further to propose inter-species interactions as a
major
driving force of evolution. This hypothesis has been used as a guiding principle when writing this monograph.