2018 | OriginalPaper | Buchkapitel
Water Entitlements as Property: A Work in Progress or Watertight Now?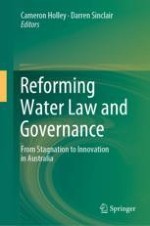 Erstes Kapitel lesen
Autoren: Janice Gray, Louise Lee
Verlag: Springer Singapore
Abstract
This chapter considers a seemingly simple question: are water entitlements property? Yet this question is deceptive in its simplicity. The chapter's focus is water entitlements and licences in the context of water trading in Australia, but it also references other international jurisdictions and suggests that the concerns raised in the Australian context may have relevance for other jurisdictions where water trading is either being relied on, or being considered as a governance tool. In exploring the property question, the chapter briefly outlines three different theories of property and highlights some existing tensions between different analyses of property in order to demonstrate that property is a complex and nuanced concept which may take different forms depending on which justificatory and analytical approaches are employed. The chapter argues that despite property's popularity in neo-liberal politics and its convenience as a regulatory tool, the impacts of propertisation should be considered very carefully before the proprietary route is embraced. Accordingly, the chapter also discusses statutory property generally and specifically the characterisation of water entitlements/licences under legislation, before considering whether water entitlements need to be characterised as property to support trading. It then explores the possible effects of keeping water entitlements/licences outside the proprietary frame, arguing that such an approach may open up opportunities for a wider range of governance tools.