2018 | OriginalPaper | Buchkapitel
What Does the Young Generation Want to Eat and Do for Being Healthy from the Perspective of Today and the Future?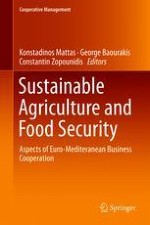 Erstes Kapitel lesen
Autoren: Püren Veziroğlu, Kenan Çiftçi, Bülent Miran, Ayça Nur Şahin
Abstract
Being healthy includes both physical and mental conditions. It is a fact that individuals can create their mental peace and care about their body for now and the future with the help of social activities and healthy eating. 190 student were interviewed face to face via a structured questionnaire. The data was analyzed with descriptive statistics and the Analytic Hierarchy Process (AHP) that was particularly used to measure the sensitivity weights for food habits, and future choices for being healthy. Which choices to be taken into consideration depend on the maximum benefit that the students would get with respect to the Likert scores and AHP scores. Hence a 0–1 integer optimization model provides us with the necessary solution. As a result of the study, students who belong to Best #1 are male, educated in a city/big city and have higher income compared to Best #2 and Best #3. This means that it is crucial for the 41 students to eat organic and non-GMO products. They prefer to consume it now and the most important thing is that they will increase their consumption where these foods are easily accessible. Another considerable finding is that only students who belong to Best #3 prefer to consume organic foods in the future. Furthermore their income level is lower compared to the other two groups. In addition the majority of the students are female in the group. Consumers with low income tend to postpone their more expensive activities. This study is an introductory practice of BeCa Analysis. For future studies, researchers are recommended to expand the number of respondents to represent different types of decision-makers. That would be beneficial for institutions to define the consumer profile that would purchase goods or services for better and healthy living with the best satisfaction.