1998 | OriginalPaper | Buchkapitel
When do Genetic Considerations Require Special Approaches to Ecological Restoration?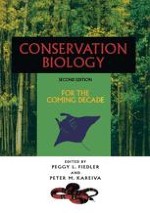 Erstes Kapitel lesen
Autoren: Eric E. Knapp, Andrew R. Dyer
Verlag: Springer US
Enthalten in: Professional Book Archive
Conservation biology cannot be concerned solely with preserving what remains. With many habitat types reduced to as little as 1% (e.g., tallgrass prairie east of the Mississippi River, USA) or even 0.1% (e.g., Central Valley riparian forest, California, USA) of their original area (see references in Noss et al. 1995), protecting what is left often represents "too little, too late." Even habitat types that remain relatively common often occur in isolated patches that are too small for long-term conservation of viable populations of all organisms, particularly those of large carnivores and ungulates (Schonewald-Cox 1983). For these reasons, effective preservation of biodiversity may require investment in ecological restoration to increase the size as well as the connectivity of available habitat (Jordan et al. 1988). Restoration will be especially vital for restoring native diversity to many of the world's most fertile and productive communities, where habitat destruction resulting from human activities has been concentrated (Janzen 1988).