01.02.2020 | STEAM BOILERS, POWER PLANT FUELS, BURNER UNITS, AND BOILER AUXILIARY EQUIPMENT | Ausgabe 2/2020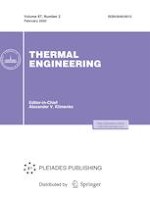 A Review of Technologies for Treatment of Fuel Oil during Storage and Preparation for Burning in Boiler Units' Furnaces
Zeitschrift:
Autoren:

N. A. Zroychikov, V. I. Kormilitsyn, V. S. Borozdin, A. V. Pay
Wichtige Hinweise
Translated by T. Krasnoshchekova
Abstract
The formation of nitrogen, sulfur, and carbon oxides in burning fuel oil in boiler furnaces, the elevated water content arising during unloading fuel oil from or its storage in tanks, the formation of deposits in fuel facilities' equipment during its operation, and the high cost of fuel oil are serious obstacles to the use of fuel oil as the main or backup fuel at thermal power stations (TPS). During the long-term storage of fuel oil, water partly settles and distributes in the form of lens, interlayers, or drops that are several to hundreds of micrometers in size. Water cannot be completely removed from the fuel oil by settling since the water and the fuel have nearly the same density. At present, fuel oil covers less than 2% of the fuel balance of TPSs. Considering the fact that there are regions in Russia where fuel oil is the only available fuel for boiler houses, the issues of fuel oil treatment as required for its burning or storage are urgent. Potential possibilities of the existing equipment for preparing fuel oil for burning in the form of fine water-fuel oil emulsions (WFOE) are examined, and the related performance effects are analyzed. The most promising and innovative method to produce WFOEs is the cavitation treatment of immiscible liquids. The equipment designs for cavitation treatment of viscous fluids at boiler houses and TPSs are reviewed. Preference is given to static type cavitation apparatuses featuring high capacity, reliability, and low capital and operating costs.