01.02.2020 | NUCLEAR POWER PLANTS | Ausgabe 2/2020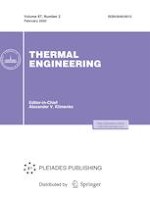 Numerical Investigation of the Molten Metallic and Oxide Fuel Relocation along the Surface of Fuel Pin
Zeitschrift:
Autoren:

E. V. Usov, I. A. Klimonov, A. A. Butov
Wichtige Hinweise
Translated by T. Krasnoshchekova
Abstract
This paper presents the results from numerical investigation of the molten (metal or oxide) fuel relocation during a thermal failure of a fuel rod under conditions close to a severe accident with a power increase in a fast rector. Since experimental investigations needed to determine the regularities of an accident with core destruction cannot be carried out under actual reactor conditions due to safety reasons, getting information on the specifics of molten fuel's movement using mathematical simulation methods is urgent. The methods and approaches used in the considered problem to simulate molten fuel flow and heat transfer with the fuel-rod surface are briefly described. Although the main fuel in reactor units is an oxide fuel at present, the calculations were also performed for metallic (uranium) fuel to evaluate its effect on the development of an accident. In the calculations, account was taken for the different regularities of heat transfer of metal and oxide fuels that resulted from a considerable difference in the Prandtl numbers for melts of these materials. The processes were investigated for the first phase of severe accidents covering the period from the onset of fuel-rod melting to the melt escape from the core center. Fuel-rod melting and fuel flow were simulated for a single fuel rod.