17.02.2018 | Original Paper | Ausgabe 8/2018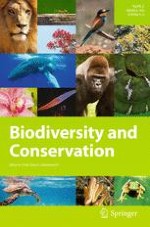 Adjacent woodlands rather than habitat connectivity influence grassland plant, carabid and bird assemblages in farmland landscapes
Zeitschrift:
Autoren:

Rémi Duflot, Hervé Daniel, Stéphanie Aviron, Audrey Alignier, Véronique Beaujouan, Françoise Burel, Arnaud Cochard, Aude Ernoult, Guillaume Pain, Joséphine A. Pithon
Wichtige Hinweise
Communicated by David Hawksworth.
Electronic supplementary material
Abstract
One response to biodiversity decline is the definition of ecological networks that extend beyond protected areas and promote connectivity in human-dominated landscapes. In farmland, landscape ecological research has focused more on wooded than open habitat networks. In our study, we assessed the influence of permanent grassland connectivity, described by grassland amount and spatial configuration, on grassland biodiversity. We selected permanent grasslands in livestock farming areas of north-western France, which were sampled for plants, carabids and birds. At two spatial scales we tested the effects of amount and configuration of grasslands, wooded habitats and crops on richness and abundance of total assemblages and species ecological groups. Grassland connectivity had no significant effects on total richness or abundance of any taxonomic group, regardless of habitat affinity or dispersal ability. The amount of wooded habitat and length of wooded edges at the 200 m scale positively influenced forest and generalist animal groups as well as grassland plant species, in particular animal-dispersed species. However, for animal groups such as open habitat carabids or farmland bird specialists, the same wooded habitats negatively influenced richness and abundance at the 500 m scale. The scale and direction of biodiversity responses to landscape context were therefore similar among taxonomic groups, but opposite for habitat affinity groups. We conclude that while grassland connectivity is unlikely to contribute positively to biodiversity, increasing or maintaining wooded elements near grasslands would be a worthwhile conservation goal. However, the requirements of open farmland animal species groups must be considered, for which such action may be deleterious.