08.05.2019 | Original Research | Ausgabe 9/2019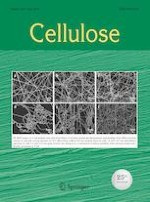 Advanced photocatalytic performance of novel BiOBr/BiOI/cellulose composites for the removal of organic pollutant
Zeitschrift:
Autoren:

Minxing Du, Yi Du, Yibing Feng, Zhongfu Li, Jianyong Wang, Nan Jiang, Yang Liu
Wichtige Hinweise
Electronic supplementary material
Publisher's Note
Springer Nature remains neutral with regard to jurisdictional claims in published maps and institutional affiliations.
Abstract
An environmental friendly BiOBr/BiOI/cellulose composite was successfully prepared via the facile in situ synthesis method using pulp board as the cellulose source in TEMPO (2,2,6,6-tetramethylpiperidine-1-oxyl radical)-mediated oxidation. The obtained samples were characterized by the SEM, XRD, FT-IR, BET, XPS, UV–Vis DRS, TOC, HPLC, EPR, PL and EIS. The results suggested that there was a remarkable compatibility between BiOBr/BiOI and cellulose. The BiOBr/BiOI/cellulose composite exhibited extensively photocatalytic degradation activity and recycling properties under visible light irradiation. The photocatalytic activity of resultant samples was determined sufficiently through decomposition of rhodamine B (RhB), fluorescein dye (FL) and colorless antibiotic tetracycline hydrochloride (TC). DRS and PL analysis data indicated that the enhanced light harvesting ability and higher separation efficiency of photogenerated electron–hole pairs contributes to the excellent photocatalytic activity. On the basis of the experimental results and estimated energy band positions, the mechanism of enhanced photocatalytic activity was proposed. Moreover, the portable photocatalysts were easily recycled and reused, showing potential applications for environmental purification.
Graphical abstract
×