13.04.2017 | Ausgabe 5/2017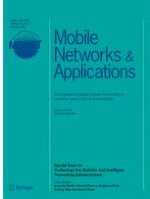 An Improved Hyper-Heuristic Clustering Algorithm for Wireless Sensor Networks
Zeitschrift:
Autoren:

Chun-Wei Tsai, Wei-Lun Chang, Kai-Cheng Hu, Ming-Chao Chiang
Abstract
Clustering is one of the most famous open problems of wireless sensor network (WSN) that has been studied for years because all the sensors in a WSN have only a limited amount of energy. As such, the so-called low-energy adaptive clustering hierarchy (LEACH) was presented to prolong the lifetime of a WSN. Although the original idea of LEACH is to keep each sensor in a WSN from being chosen as a cluster head (CH) too frequently so that the loading of the sensors will be balanced, thus avoiding particular sensors from running out of their energy quickly and particular regions from failing to work, it is far from perfect because LEACH may select an unsuitable set of sensors as the cluster heads. In this paper, a high-performance hyper-heuristic algorithm will be presented to enhance the clustering results of WSN called hyper-heuristic clustering algorithm (HHCA). The proposed algorithm is designed to reduce the energy consumption of a WSN, by using a high-performance
metaheuristic algorithm
to find a better solution to balance the residual energy of all the sensors so that
the number of alive sensor nodes will be maximized
. To evaluate the performance of the proposed algorithm, it is compared with LEACH, LEACH with genetic algorithm, and hyper-heuristic algorithm alone in this study. Experimental results show that HHCA is able to provide a better result than all the other clustering algorithms compared in this paper, in terms of the energy consumed.