30.05.2016 | Original Paper | Ausgabe 13/2017 Open Access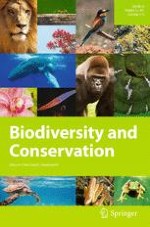 An indigenous community-based monitoring system for assessing forest health in New Zealand
Zeitschrift:
Autoren:

P. O'. B. Lyver, P. Timoti, C. J. Jones, S. J. Richardson, B. L. Tahi, S. Greenhalgh
Wichtige Hinweise
Communicated by Eckehard Brockerhoff, Hervé Jactel and Ian Thompson.
Electronic supplementary material
The online version of this article (doi:
10.​1007/​s10531-016-1142-6
) contains supplementary material, which is available to authorized users.
This is part of the special issue on 'Forest biodiversity and ecosystem services'.
Introduction
The overarching goal of this study, therefore, was to develop a Māori community-based monitoring system that primarily tracks the health of a forest ecosystem but also community well-being. To do this, we worked with the people from the Tūhoe Tuawhenua (herein referred to as Tuawhenua) community of Ruatāhuna, which is located within the Te Urewera region in the North Island of New Zealand. We were conscious that Māori communities recognise different indicators and 'survey' the environment in a different manner to that of scientific monitoring systems, with much of the understanding emerging from their intimate kinship relationship with the forest environment. A community-based monitoring system therefore needs to account for how community members interact with a forest environment, if the frequency and reasons that community members interact with the forest has changed, and the timeframes over which different facets of knowledge are acquired.
Using a series of in-depth interviews with past and present forest users, we documented how the Tuawhenua community interacted with their forest environment, and how members perceived and quantified trends and changes in the landscape and biological resources. We used this information to identify indicators the community felt were relevant and informative, and considered how these could be used in a community-based monitoring system to inform tribal decision-making and management of the forest. A secondary aim was to understand changes in the frequency of forest use and visitation by the local people over the past 65 years. A decline in forest use by the community could affect observation rates of certain indicators and the way patterns were interpreted and would therefore need to be taken into account when designing a biodiversity monitoring approach.
Methods
Results
Discussion
Our comprehensive series of interviews revealed nine culturally-relevant themes to a potential indigenous community-based forest monitoring system in New Zealand. This approach included indicators that overlap with currently implemented national biodiversity measures (e.g., seed fall by dominant forest species; the abundance of ungulate pellets; the abundance of birds) but, importantly, the approach also emphasised the use of biota, a strong interdependence of people and the environment, and a spiritual component. We discuss the challenges confronting indigenous communities in monitoring their environments and consider the value of two different approaches. We also explore the value of widening the current science-based biodiversity monitoring system to support contributions from IPLCs.
An indigenous process for understanding forest and community integrity and health
Indicators reported in this study provided information on the health of the forest and the condition of the human-biodiversity relationship. Many indicators reported by Tuawhenua people were linked closely to the provisioning capacity of the forest or 'nature's ability to provide' for the community whether from native or introduced species (Table
2
, food procurement). While the composition of foods sourced from the forest by Māori has changed over time, the process of hunting and collecting food is still an important part of the Tuawhenua lifestyle and relationship with the forest. In particular, the extinction of some native bird species (e.g., little bush moa,
Anomalopteryx didiformis
) and the large declines in the abundances of others (e.g., kākā, kererū, kōkō, and pihipihi) have meant that exotic ungulates (e.g., feral pig and red deer) have become an increasingly prominent form of forest-sourced protein. Fur from the exotic Australian brushtail possum has also been an important source of income for many community members (Jones et al.
2012
). As a consequence, a number of indicators were associated directly (e.g., herd size, fat content, colour, texture or taste) or indirectly (e.g., tracking, browse damage, animal behaviour) with the hunting of these exotic ungulates and possums (Table
2
). The forest also is still an important source of products for traditional medicinal purposes, ceremonial clothing fibre, and timber for traditional carving, construction materials and firewood. The quality and ease with which these materials could be obtained were used as indicators of forest health and well-being (Table
2
). However, a potential issue with integrating resource use indicators into a monitoring system is the relationship between the harvest-based indicator and the total abundance of species. Harvesters can adjust their practices (e.g., increased harvest effort) in a variety of ways that can influence the shape of a harvest rate–abundance relationship. Small declines in harvest rates have the potential to hide larger declines in the population (Moller et al.
2004
), therefore issues like this would need to be recognised and addressed within any community-based system.
Indicators based on experiences and observations made while people travelled across the landscape and that were not related directly to the acquisition of resources (e.g., observations of indicators relating to land erosion, forest colour, configuration and structure, and local climate effects) were also common. These indicators often reflected the ease with which an individual could move across the landscape (e.g., sapling density, openness of forest, visibility of tree trunks). Observations relating to the presence of a species for the first time or changes in the distribution of species were also easily detected and interpreted by individuals. To comprehend and gauge how these indicators changed, however, required regular forays into the forest and past knowledge of species abundance, condition or distributions. It was also common for two or more related indicators to be considered simultaneously, such as those that informed on the openness of the forest and its capacity to act as a regulator of erosion and water quality (Table
2
, nature of the forest—field survey). Multiple indicators were also used as proxies for other forest events or processes such as fruiting. The abundance, colour and flavour of fat on harvested feral pigs were used to gauge the intensity and quality of a fruiting on trees like the tawa and hīnau. This multi-indicator based approach allows forest users to cross-check their understandings of forest structure and processes (see Table
2
, food procurement—interview-based). In contrast, New Zealand's national biodiversity monitoring and reporting system uses predominantly visual measurements of biodiversity, with an exception of five-minute bird counts which include an auditory measure.
Community and human-biodiversity relations based on reciprocal exchange are fundamental ontological principles for indigenous peoples and hunting cultures around the world (Kendrick et al.
2005
; Nadasdy
2007
; Sangha et al.
2011
). Indicators of these relationships were important for the Tuawhenua people. Tuawhenua recognised that the health of the forest ecosystem was linked integrally to the community's fundamental principles of environmental guardianship or stewardship (kaitiakitanga), practice of caring for visitors (manaakitanga), and interrelatedness within natural and spiritual worlds (whakawhanaungatanga). The strength of community spirit and commitment to others (matemateone) was viewed as an indicator that measured the extent to which these principles were observed and practised. Sharing of resources has traditionally reinforced relationships and community unity. However, declines in forest resources and their use, combined with a greater reliance on store-bought foods and a monetised economy, have eroded the behaviours that contributed to the strength and integrity of this indicator.
Contributions to a community-based monitoring system
Challenges confronting community-based monitoring systems
Monitoring is an increasingly essential condition of co-management as government authorities require routine performance reporting and an evidential basis for management outcomes (McNie
2007
). Indigenous peoples typically 'manage' and 'monitor' at a localised or catchment scale reflecting community values and priorities. This challenges the ability to scale-up indicators across multiple communities and landscapes and to make inferences about the national state of biological and community well-being. Unlike a science-based monitoring system, there is likely to be greater diversity in community-based indicators between different regions of a country. This makes it difficult to compare data and interpretations of the state of biodiversity. While it is likely that congruencies in indicators will exist across communities and areas, with relatively few adaptions required for wider application, others will be site-specific and will be applied and interpreted in slightly different ways. The challenge confronting practitioners, therefore, will be to balance the variability that emerges from engaging different spatially-specific indicators and the comparativeness of indicators across multiple communities with the informative value of resulting aggregated indicators for assessing the national state of the environment and/or the community's relationship with it.
The contribution of indigenous community-based monitoring systems to regional and national efforts to monitor state of biodiversity needs consideration. For countries like New Zealand, where approaches such as the National Biodiversity Monitoring and Reporting System (Lee et al.
2005
; Ministry for the Environment and Statistics New Zealand
2015a
) have been developed, alignment of the different monitoring approaches would enrich the knowledge about the state of the environment and contribute a broader understanding of the relationships communities hold with their biodiversity. For example, in the Kalahari, Botswana, participatory and ecological methods were combined to develop indicators to monitor the sustainability of land management (Reed et al.
2008
). The variety of indicators and the methods used should add scope, rigour, and resilience to the current approach rather than raising obstacles (e.g., Huntington
2000
; Reed et al.
2008
; Danielsen et al.
2014b
).
Conclusion
Changes to lifestyles and biodiversity can alter how indigenous communities use, understand and relate to indicators that reflect their environments. Regardless of the circumstances however, the indicators used within a community-based monitoring process need to be relevant and trusted by the people whom they are intended to serve. Decisions about which indicators to implement should also be made in relation to clearly defined objectives that allow performance to be gauged in a meaningful and timely manner (Lindenmayer et al.
2012
). Since values or priorities for communities are often best expressed in their resource use practices, the ideal monitoring system is one where community members can report on biodiversity based on their 'undisturbed' routines. However, in situations where there is reduced resource use or movement on the land by the community (such as in this study), a field survey approach using indicators identified by community elders or experts might offer an alternative method for monitoring environmental health. Such an approach would require elders or experts to go out on their lands specifically for the purpose of providing their impressions of biodiversity. An alternate method might involve members of the community being trained by their elders and/or resource users to recognise and measure indicators in their different states using prescribed metrics. Impressions of indicators that are formed over longer timeframes could then be sourced using an interview-based approach. This method would also allow qualitative indicators related to the forest-community relationship to be included in assessments. A field survey approach is inherently more expensive than an interview-based approach which draws its information from existing forest use. However, if elders are engaged in the field survey, forests can be measured against past ecological baselines or health that elders recall from their youth. A qualitative field survey approach also offers opportunities to cross-check how some congruent indicators align quantitative scientific monitoring data. The application of an indigenous community-based monitoring system in conjunction with a scientific-based approach therefore is likely to be highly informative over time. It also gives indigenous communities an important stake in the interpretation and decision-making processes, ensuring that biodiversity and cultural values relevant to their people are protected and maintained.
Acknowledgments
We thank the interviewees and workshop participants that contributed to this study. Moehau Kutia, Te Peeti (Spady) Kutia, Te Motoi Taputu, Tangiora Tawhara, June Tihi, and Kirituia Tumarae-Teka contributed to the collection, translation and transcription of interviews. Anne Sutherland constructed our location map. The study was conducted under the directorship of the Tūhoe Tuawhenua Trust and was funded by MBIE Grants (C09X0308; C09X1307) and Crown Research Institute 'Māori and Biodiversity' Core funding. Thanks to the editor and three anonymous referees for their review of this article.
Open Access
This article is distributed under the terms of the Creative Commons Attribution 4.0 International License (
http://​creativecommons.​org/​licenses/​by/​4.​0/​
), which permits unrestricted use, distribution, and reproduction in any medium, provided you give appropriate credit to the original author(s) and the source, provide a link to the Creative Commons license, and indicate if changes were made.