01.02.2011 | Original Article | Ausgabe 4/2011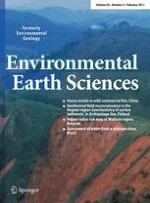 Anthropogenic impact on Andaman coast monitoring with benthic foraminifera, Andaman Sea, India
Zeitschrift:
Autoren:

N. Jayaraju, B. C. Sundara Raja Reddy, K. R. Reddy
Abstract
The concept of anthropogenic impact is extremely important to be considered while analysing the ecology of coast and shelf zones. For centuries, these zones have been the epicentres for various human activities, including urbanisation, construction of sea ports and harbours, development of natural reservoirs (including oil production and fishing), marine aquaculture, shipping, recreation and many others. Many of the activities in progress on both sides of the shoreline provide 50% or more of the gross State/UT (Union Tertiary) product for surrounding states. The data shows that land-based and atmospheric sources account for about two-thirds of the total contamination found in the marine environment, constituting 44 and 33%, respectively. The greatest anthropogenic pollution pressure undoubtedly falls on the shelf zones and coastal areas. To prove this theory, a total of 25 bottom sediment samples were collected within the depth zone of 5 fathoms from the South Andaman coastal fringe for sediment geochemistry studies and foraminiferal analysis. The samples were further analysed for heavy metal pollutants like Co, Cu, Mn, Pb and Zn. The study yielded 20 benthic foraminiferal species. Of these, five benthic species were living including
Ammonia beccarii
,
Calcarine calcar
,
Elphidium crispum
,
Operculina complanata
and
Nonion deppresula
. The presence of deformed specimens and the domination of
Ammonia
spp. are indications of a polluted environment. Sampled coral reefs had high abundances of
Operculina
spp. The highest counts of benthic microbiota were found in finer sediment. Species diversity is very limited along the coastal fringe of South Andaman Island in comparison with fauna from the coast of India. This first report of benthic foraminifera from South Andaman Island will allow us to assess future impacts of marine pollution because foraminiferal deformations are positively correlated to the concentrations of heavy metals (Cr, Cu, Mn, Pb and Zn).