13.10.2016 | Original Paper | Ausgabe 3/2017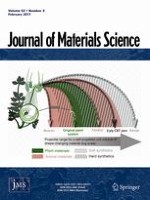 Blending PLLA/tannin-grafted PCL fiber membrane for skin tissue engineering
Zeitschrift:
Autoren:

Suchen Jiang, Ping Song, Huiling Guo, Xue Zhang, Yajun Ren, Huanchao Liu, Xiaofeng Song, Mingming Kong
Abstract
To create novel materials of skin tissue engineering, the blends of tannin-grafted poly(ɛ-caprolactone) (TA-
g
-PCL) and poly(
l
-lactic acid) (PLLA) have been prepared by electrospinning, and their corresponding characteristics are evaluated such as morphology, FTIR, thermodynamics, mechanics, wettability, as well as biocompatibility. TA-
g
-PCL and PLLA can be well blended to make smooth fibers, and fibrous diameter turns thinner with blending TA-
g
-PCL. At 15 wt%, the fibrous membrane shows higher tensile strength and elongation at a break than the other samples due to its best crystallinity. Membranous wettability drops with blending TA-
g
-PCL, but it increases sharply after incorporating PF108. At the same time, PLLA/TA-
g
-PCL fiber membrane is biocompatible. The biodegradable PLLA/TA-
g
-PLLA membrane is a promising candidate as skin tissue engineering.