01.04.2015 | Technical Paper | Ausgabe 4/2015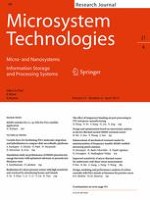 Can a curved beam bistable mechanism have a secondary equilibrium that is more stable than its stress-free configuration?
Zeitschrift:
Autoren:

Gal Salinas, Sefi Givli
Abstract
A new concept for the geometry of a curved beam bistable micromechanical mechanism is proposed aiming at producing a secondary equilibrium state that is more stable (in terms of transformation force) than the primary, stress-free, configuration. The proposed geometry is simple and compatible with common MEMS mass-production processes. A parametric study is performed by means of a non-linear finite-elements analysis in order to study the post-buckling behavior and performance of the mechanism. Based on this analysis, we show that it is theoretically possible to have a mechanism that exhibits a secondary equilibrium state that is more stable than the stress-free configuration. We also find that the post-buckling response of the proposed design is very sensitive to a particular geometrical feature. Besides this particular weakness, the mechanism is rather robust with respect to geometrical inaccuracies. We report our findings with the hope of inspiring others to propose new ideas for overcoming this geometrical sensitivity.