2010 | OriginalPaper | Buchkapitel
6. Classical Physical Geodesy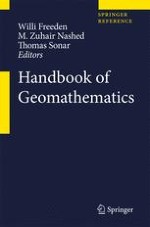 Erstes Kapitel lesen
Autor: Helmut Moritz
Verlag: Springer Berlin Heidelberg
Abstract
Geodesy can be defined as the science of the figure of the Earth and its gravitational field, as well as their determination. Even though today the figure of the Earth, understood as the visible Earth's surface, can be determined purely geometrically by satellites, using global positioning system (GPS) for the continents and satellite altimetry for the oceans, it would be pretty useless without gravity. One could not even stand upright or walk without being "told" by gravity where the upright direction is. So as soon as one likes to work with the Earth's surface, one does need the gravitational field. (Not to speak of the fact that, without this gravitational field, no satellites could orbit around the Earth.)
To be different from the existing textbooks, a working knowledge of professional mathematics can be taken for granted. In some areas where professors of geodesy are hesitant to enter too deeply, afraid of losing their students, some fundamental problems can be studied.
Of course, there is a brief introduction to terrestrial gravitation as treated in the first few chapters of every textbook of geodesy, such as gravitation and gravity (gravitation plus the centrifugal force of the Earth's rotation), the geoid, and heights above the ellipsoid (now determined directly by GPS) and above the sea level (a surprisingly difficult problem!).
But then, as accuracies rise from 10 − 6 in 1960 (about < 10 m globally) to 10 − 8 to 10 − 9 (a few centimeters globally) one has to rethink the fundamentals, and make use of the new powerful measuring devices, not to forget the computers that are able to handle all this stuff.
At the new accuracies, Newtonian mechanics is no longer sufficient. Einstein's General Relativity is needed. Fortunately these "relativistic corrections" are small, and Newtonian mechanics and Euclidean geometry still provide a classical basis to which these corrections can be applied.
Einstein's relativity has put into focus an old ingenious technique of measuring the gravity field, gradiometry, which was invented around 1890 by Roland Eötvös. His torsion balance measured the second-order gradients of the gravitational potential, rather than the three first-order gradients, which form the gravity vector (with the centrifugal forces included). If one wants to measure gravity in a satellite, one would get zero, because the centrifugal force exactly balances gravitation (this is the essence of weightlessness already recognized by Jules Verne). So one has to one step further to measure the second-order gradients, which leads to satellite gradiometry. The newest dedicated satellite mission, launched in 2009, is GOCE, and there is a long way of more than some 120 years to go from Eötvös to GOCE. On the way one has Einstein and then, in 1960, Synge who showed that Eötvös' gradients are nothing else but components of the mysterious Riemann curvature tensor so prominent in General Relativity. Since 1957, of course, this was done in artificial satellites, after not so spectacular results in terrestrial and aerial gradiometry.
Since the Earth's rotation was, and still is, a fundamental measure of time, and the Earth is not rotating uniformly due to tidal effects, it is not surprising that geodesists became involved in precise time measurements. Time, however, is also affected by gravity according to Einstein.
Immediately after the Sputnik of 1957, satellites were used to measure the global features of the external geopotential and to bring it down to the earth by "downward continuation," analytical continuation of the harmonic potential, at least to the Earth's surface, but still better, down to the geoid, to sea level.
The old problem of the geodesist, to "reduce" their data to sea level, is not solvable exactly because the density of the masses above the geoid is not known to sufficient accuracy. If it were, then one could apply the classical boundary-value problems formulas by Stokes in 1849 and Neumann in 1887 (the latter is particularly appropriate in the GPS era).
In 1945, the Russian geodesist and geophysicist M.S. Molodensky devised a highly ingenious and absolutely novel approach to overcome this problem. His idea was to forget about the geoid and to directly determine the Earth's surface. Only, the boundary-value problem becomes much more difficult! Using the language of modern mathematics it is a "hard" problem of nonlinear functional analysis. Its existence and uniqueness was first shown on the basis of Krarup's exact linearization by the well-known mathematician Lars Hörmander in 1976, but with presupposing a considerable amount of smoothing the topography.
However, Molodensky and several others found approximate solutions, which seem to be practically sufficient and did not require the rock density. One of the best solutions, found and rejected by Molodensky and rediscovered by several others, uses again analytical continuation!
Still, one cannot get rid of the rock density altogether in a very practical engineering problem: tunnel surveying. Here one is inside the rock masses and GPS cannot be used. If these masses are disregarded, GPS and ISS (inertial survey systems) may have an unpleasant encounter at the ends of the tunnel.
A well-known practical and theoretical tool is the use of series of spherical harmonics, both for satellite determination of the gravitational field and for the study of analytical continuation. Harmonic functions are a three-dimensional analogue to complex functions in the plane, for which a well-known approximation theorem by Runge guarantees, loosely speaking, analytical continuability to any desired accuracy, as pointed out by Krarup. This chapter contains a comprehensive review of this problem.
Since relativistic effects and analytical continuation are not easily found in books on geodesy, they are relatively broadly treated here.
A method of data combination for arbitrary data to determine the geopotential in three-dimensional space is the least-squares collocation developed as an extension of least-squares gravity interpolation together with least-squares adjustment by Krarup and others. As is extensively used and well documented, a brief account will be given here.
Open current problems such as an adequate treatment of ellipticity of the reference ellipsoid (already studied by Molodensky!), nonrigidity of the Earth, and relevant inverse problems are pointed out finally.