14.08.2018 | Survey | Ausgabe 3/2018 Open Access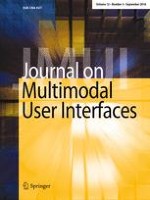 Co-located augmented play-spaces: past, present, and perspectives
Zeitschrift:
Autoren:

Robby van Delden, Steven Gerritsen, Dirk Heylen, Dennis Reidsma
Wichtige Hinweise
Electronic supplementary material
This publication was supported by the Dutch national program COMMIT. The first author has been funded by this program to investigate ambient entertainment technology as part of the Interaction for Universal Access research project. This manuscript builds on the work reported in a Ph.D. thesis [
224
] and makes use of work done for the Master's thesis of the second author. As is general practice in this field we have been in personal contact with many of the cited authors in project-financed visits to conferences and symposia. Although there is no direct conflict of interest due to currently active projects or proposals, these personal relationships might have resulted in a shift towards inclusion of some of those papers. In a similar manner we have contacts in and contacted several commercial companies. More specifically we have supervised several Bachelor projects done with Yalp Interactive.
Publisher's Note
Springer Nature remains neutral with regard to jurisdictional claims in published maps and institutional affiliations.
Abstract
In recent years, many different studies regarding Co-located Augmented Play-spaces (CAPs) have been published in a wide variety of conferences and journals. We present an overview. The work presented in these papers includes end user's perspectives as well as researcher's perspective. We place these within four aspects in this review: (1)
Argumentation
, the underlying reasons or the higher end goals to investigate interactive play from a user's perspective, (2)
Systems
, the kind of systems that are created, this includes their intended use which fits the end user's perspective, (3)
Evaluation
, the way in which the researchers evaluate the system, (4)
Contribution
, the goal of the studies from the researcher's perspective; what does the study contribute to the research community. CAPs are often multimodal in nature; this survey pays attention to the multimodal characteristics in relation to all four aspects. This overview contributes a clearer view on the current literature, points out where new opportunities lie, and hands us the tools for what we think is important: bringing the end-user and research perspective together in intervention based evaluations. In short, this paper discusses CAPs: their past, the present, and the perspectives.