30.03.2017 | Original Article | Ausgabe 6/2017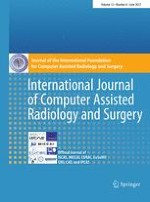 Coffee: the key to safer image-guided surgery—a granular jamming cap for non-invasive, rigid fixation of fiducial markers to the patient
Autoren:

Patrick S. Wellborn, Neal P. Dillon, Paul T. Russell, Robert J. Webster III
Abstract
Purpose
Accurate image guidance requires a rigid connection between tracked fiducial markers and the patient, which cannot be guaranteed by current non-invasive attachment techniques. We propose a new granular jamming approach to firmly, yet non-invasively, connect fiducials to the patient.
Methods
Our granular jamming cap surrounds the head and conforms to the contours of the patient's skull. When a vacuum is drawn, the device solidifies in a manner conceptually like a vacuum-packed bag of ground coffee, providing a rigid structure that can firmly hold fiducial markers to the patient's skull. By using the new Polaris Krios optical tracker, we can also use more fiducials in advantageous configurations to reduce registration error.
Results
We tested our new approach against a clinically used headband-based fiducial fixation device under perturbations that could reasonably be expected to occur in a real-world operating room. In bump testing, we found that the granular jamming cap reduced average TRE at the skull base from 2.29 to 0.56 mm and maximum TRE at the same point from 7.65 to 1.30 mm. Clinically significant TRE reductions were also observed in head repositioning and static force testing experiments.
Conclusion
The granular jamming cap concept increases the robustness and accuracy of image-guided sinus and skull base surgery by more firmly attaching fiducial markers to the patient's skull.