30.01.2020 | Methodologies and Application | Ausgabe 16/2020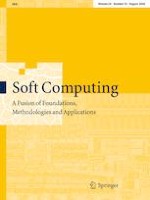 Complex image recognition algorithm based on immune random forest model
Zeitschrift:
Autoren:

Xiaoyu Zhang, Wei Huang, Xiao Lin, Linhua Jiang, Yan Wu, Chunxue Wu
Wichtige Hinweise
Publisher's Note
Springer Nature remains neutral with regard to jurisdictional claims in published maps and institutional affiliations.
Abstract
With the continuous advancement of science and technology, the social network based on the Internet has gradually penetrated into people's daily lives. The image data shared on social media using platforms such as mobile phones has exploded, and hundreds of millions of dollars are generated every day with picture information. In the past, the traditional ways of expressing textual information that people are familiar with have begun to be gradually replaced by image information that is not subject to regional culture such as language and script. In modern warfare, with the continuous development and equipment of highly sophisticated weapons and equipment, the amount of information that the entire combat system needs to process will also increase. In particular, the air defense system needs to quickly and accurately identify the aircraft targets that are coming. It mainly uses computer to extract the feature information of the acquired image and converts the content in the image into a feature expression that can be processed by the computer. After the appropriate classification algorithm, the image is the target object is classified by category. In this paper, we propose a complex image recognition algorithm based on immune random forest model. The experimental results show that the proposed algorithm has high recognition efficiency and higher robustness.