01.09.2014 | Ausgabe 2/2014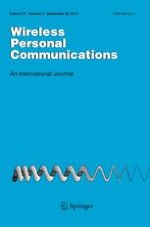 Compressed Sensing Trilinear Model-Based Blind Carrier Frequency Offset Estimation for OFDM System with Multiple Antennas
Zeitschrift:
Autoren:

Xiaofei Zhang, Wei Wu, Renzheng Cao
Abstract
This paper addresses the problem of carrier frequency offset (CFO) estimation for orthogonal frequency division multiplexing (OFDM) systems with multiple antennas, and links CFO estimation problem in OFDM systems to the compressed sensing trilinear model. Exploiting this link, we derives a compressed sensing trilinear model-based CFO estimation algorithm. The signal model can be expressed as a trilinear model, and there exists three compressed matrices which can compress the trilinear model to be a lower dimensional one. After that, trilinear decomposition is performed for the compressed model to get the estimations of compressed data matrices, and then the CFO can be estimated through solving the sparse recovery problem via
\(\ell _0\)
-norm constraint. The proposed algorithm has much better CFO estimation performance than ESPRIT method, and performs very close to the trilinear decomposition-based approach which has heavier computational burden and requires much greater storage capacity. Furthermore, our proposed algorithm can even work in condition of no virtual carrier. We derive the Cramer-Rao bound of CFO estimation for multiple antenna OFDM system. Simulation results illustrate performance of our algorithm.