14.11.2016 | Ausgabe 1/2017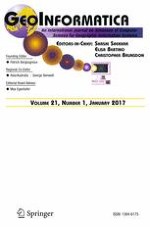 Constrained energy-efficient routing in time-aware road networks
Zeitschrift:
Autoren:

Yaqiong Liu, Hock Soon Seah, Guochu Shou
Abstract
Routing problems find applications in many location-based services. Existing works which answer route queries mainly focus on static road networks rather than time-aware road networks. Observe the fact that (i) the same road segment may be driven with different speeds during different time intervals, and (ii) users usually prefer driving on a route that consumes minimum energy within a travel time budget. Motivated by this, this paper proposes the Constrained Energy-Efficient Time-Aware Routing problem, denoted as
C
E
E
T
A
R
. We take time factor into consideration and utilize a time-aware speed model and a time-aware polynomial energy cost model. To solve
C
E
E
T
A
R
, we propose a dynamic programming solution, and then propose an approximation algorithm which uses the branch and bound, and scaling strategy with provable approximation bounds to answer the query of
C
E
E
T
A
R
in real-world dense road networks. In addition, we also propose a greedy route planning algorithm. Experimental results demonstrate that our approximation algorithms can efficiently answer
C
E
E
T
A
R
queries with high accuracy.