2016 | OriginalPaper | Buchkapitel
15. Decision-Making Tools: Innovation Measurement Framework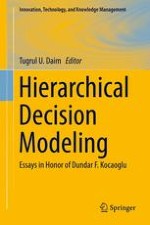 Erstes Kapitel lesen
Autor: Kenny Phan
Abstract
Innovation is one of the most important sources of competitive advantage. It helps a company to fuel the growth of new products and services, sustain incumbents, create new markets, transform industries, and promote the global competitiveness of nations. Because of its importance, companies need to manage innovation. It is very important for a company to be able to measure its innovativeness because one cannot effectively manage without measurement. A good measurement model will help a company to understand its current capability and identify areas that need improvement.
This chapter develops a framework to determine the innovativeness of a company in the semiconductor industry by using output indicators. Output indicators are used because they cannot be manipulated. A hierarchical decision model (HDM) was constructed for the framework. Expert judgments were quantified and incorporated into the model. The hierarchy consisted of three levels: innovativeness index, output indicators, and sub-factors.
According to the experts, the top three sub-factors to measure the innovativeness of a company are revenue from new products, market share of new products, and products that are new to the world.