01.04.2019 | ORIGINAL PAPER | Ausgabe 4/2019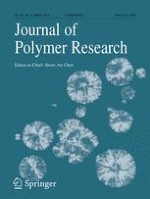 Dual responsive spiropyran-ended poly(N-vinyl caprolactam) for reversible complexation with metal ions
Zeitschrift:
Autoren:

Zhouxiaoshuang Yang, Feng Wang, Hui Liu
Wichtige Hinweise
Electronic supplementary material
Publisher's note
Springer Nature remains neutral with regard to jurisdictional claims in published maps and institutional affiliations.
Abstract
With the spiropyran-containing compound as the initiator, dual responsive spiropyran-ended poly(N-vinyl caprolactam) (SP-PNVCL) was synthesized by atom transfer radical polymerization. The structure of the resulting polymer was characterized by 1H NMR and gel permeation chromatography, and the polymer had both reversible light-responsive and thermo-sensitive behaviors. Metal ions could be bound between merocyanine formed by photoisomerization of spiropyran and the amino group of N-vinyl caprolactam unit through synergetic coordination. The complexation of SP-PNVCL with several metal ions was investigated by UV-Vis absorption spectroscopy, and it was found that SP-PNVCL might be used as a potential recognition probe for Fe2+, accompanied by obvious color change from colorless to brown by naked eye. The detection limit and photo-reversible recyclable behaviors of SP-PNVCL for Fe2+ were also investigated in details. The kind of spiropyran-ended poly(N-vinyl caprolactam) had great application potential in environment protection and biological area.