01.06.2016 | Original Article | Ausgabe 2/2016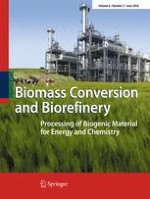 Dual-stage methodology for production, characterization, and storage stability of
Jatropha curcas

biodiesel
Zeitschrift:
Autoren:

Mariana Ruiz Frazão do Nascimento, Donato Alexandre Gomes Aranda, Ana Elizabeth Cavalcante Fai, Sandro Dourado Silveira, Yordanka Reyes Cruz, Felipe Santiago Soares, Eduardo Homem da Siqueira Cavalcanti
Abstract
The increasing demand for energy and environmental consciousness has encouraged a considerable amount of research effort to synthesize alternative fuels from renewable resources. Biodiesel as an alternative fuel for diesel engines has gained international attention. This study aimed to produce biodiesel using a dual-stage methodology from
Jatropha curcas
oil, a nonedible raw material, esterification followed by alkaline transesterification method. The physical and chemical determinations were carried out at such as acidity as high as 9.0 mg KOH g
−1
. Therefore, esterification was first conducted with decreasing acidity to a suitable value of 1.75 mg KOH g
−1
which is liable to subsequent transesterification stage. The chromatographic data shows that the oil fatty acids present in greatest quantity are 47.85 % oleic (C18:1) and 33.28 % linoleic (C18:2), with suitable lipids for biodiesel production. From the results obtained through the characterization of
J. curcas
biodiesel, it was noted that this had to be a promising oilseed for biodiesel production, with a yield of 97.5 % in the esterification reaction and 84.4 % in transesterification reaction, and obtained an ester content of 98.5 % (
w
/
w
). The oxidative stability was raised to 6.17 h with the addition of 2000 ppm of antioxidant 2,6-di-
tert
-butyl-4-methylphenol (BHT). During the storage period, the sample of
J. curcas
biodiesel showed a decrease in oxidative stability and an increase in water content with time.