28.08.2018 | Original Paper: Sol-gel and hybrid materials for dielectric, electronic, magnetic and ferroelectric applications | Ausgabe 3/2018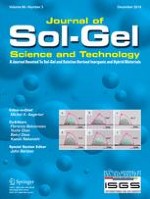 Effect of annealing temperature on structure and magnetic properties of sol–gel synthesized Co0.8Fe2.2O4/SiO2 nanocomposites
Zeitschrift:
Autoren:

Meiling Shan, Shuo Ding, Jie Hua, Weinan Cui, Jundong Wang, Jin Wang
Abstract
Using SiO
2
as amorphous matrix, Co
0.8
Fe
2.2
O
4
/SiO
2
nanocomposites were synthesized by sol–gel method. The effect of annealing temperature on structure, cation distribution, and magnetic properties was investigated by X-ray diffraction (XRD), Mössbauer spectroscopy, and vibrating sample magnetometer (VSM). All Co
0.8
Fe
2.2
O
4
in obtained composites exhibit cubic spinel structure after annealed at 500 °C and above. The particle size of Co
0.8
Fe
2.2
O
4
increases from 5 to 25 nm as the annealing temperature increases from 500 to 1100 °C. Analysis of Mössbauer and VSM reveal that higher annealing temperature induces the migration of Fe
3+
from octahedral B to tetrahedral A sites, which results in the enhancement in magnetic hyperfine field
H
in
. While the increasing content of Co
2+
at B sites and the weakened 'pinning' effect of domain wall result in the increase of coercivity
H
c
. In addition, larger Co
0.8
Fe
2.2
O
4
/SiO
2
particles exhibit higher saturation magnetization
M
s
due to the relative decrease in magnetically disordered content on the Co
0.8
Fe
2.2
O
4
surface.
×