05.02.2018 | Ausgabe 4/2018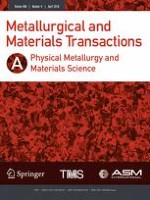 Effect of Prior Austenite Grain Size on the Morphology of Nano-Bainitic Steels
Zeitschrift:
Autoren:

Kritika Singh, Avanish Kumar, Aparna Singh
Wichtige Hinweise
Manuscript submitted September 3, 2017.
Abstract
The strength in nanostructured bainitic steels primarily arises from the fine platelets of bainitic ferrite embedded in carbon-enriched austenite. However, the toughness is dictated by the shape and volume fraction of the retained austenite. Therefore, the exact determination of processing–morphology relationships is necessary to design stronger and tougher bainite. In the current study, the morphology of bainitic ferrite in Fe-0.89C-1.59Si-1.65Mn-0.37Mo-1Co-0.56Al-0.19Cr (wt pct) bainitic steel has been investigated as a function of the prior austenite grain size (AGS). Specimens were austenitized at different temperatures ranging from 900 °C to 1150 °C followed by isothermal transformation at 300 °C. Detailed microstructural characterization has been carried out using scanning electron microscopy and X-ray diffraction. The results showed that the bainitic laths transformed in coarse austenite grains are finer resulting in higher hardness, whereas smaller austenite grains lead to the formation of thicker bainitic laths with a large fraction of blocky type retained austenite resulting in lower hardness.