08.11.2020 | Original Article | Ausgabe 1/2021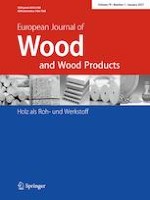 Effect of wood surface roughness on prediction of structural timber properties by infrared spectroscopy using ANFIS, ANN and PLS regression
Zeitschrift:
Autoren:

Samuel Ayanleye, Vahid Nasir, Stavros Avramidis, Julie Cool
Wichtige Hinweise
Publisher's Note
Springer Nature remains neutral with regard to jurisdictional claims in published maps and institutional affiliations.
Abstract
Predicting the properties of structural timber using a rapid and reliable non-destructive method is a critical quality control task in production. This study investigates using infrared spectroscopy for predicting the density, moduli of elasticity (MOE) and rupture (MOR) of two structural softwoods. Because the produced timber is sometimes planed during manufacturing resulting in a smooth surface finish, the effect of wood surface roughness on prediction accuracy of timber properties was also investigated. Accordingly, infrared spectroscopy experiments were carried out on Douglas-fir and Western hemlock specimens having a rough and smooth surface. In addition, the effect of the infrared spectroscopy range on the predictive models was studied. Data in the visible infrared (VIS), near-infrared (NIR), and the combined VIS and NIR range were used for properties prediction. The acquired infrared data were processed using principal component analysis (PCA) for data reduction and feature selection. The output of PCA was then fed into an adaptive neuro-fuzzy inference system (ANFIS), multilayer perceptron (MLP) neural network (NN) and partial least square (PLS) regression model. The results showed that the wood surface finish, range of infrared data, and the type of machine learning model impact the prediction accuracy. ANFIS showed superior performance to MLP NN and PLS model for properties prediction. In addition, NIR data acquired from rough surface resulted in better prediction accuracy, which suggests that an infrared spectroscopy test should be performed prior to surface planing. The proposed models yield better accuracy for predicting the MOE and MOR than wood density.